Rock and gravel placement
Serving Vancouver WA | Portland OR | Salem-Keizer OR
Whether you need bedrock at your retail center or gravel at a new housing development, Dan Jones is here for you. Our rock slinger trucks can provide your rock and gravel placement, quickly and accurately. Our conveyor trucks have a capacity for 20 tons of material per load. With our high-speed conveyors, we're able to get the material you need, right where you want it, saving you time, money, and labor!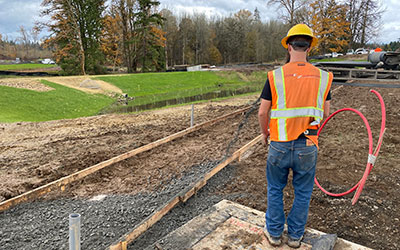 Rock and Gravel Placement Projects
We can place rock and gravel for:
Lightrail projects
Highway shoulders
Garage and basement fills
Foundation drains
Slab, driveway, and sidewalk base
Dig out cover
Tank fills
Dry creek bed
Under a flood house
Sports fields
Pool backfill
Drainage and erosion control
And so much more!
Rock Slinger Trucks for Rock and Gravel Placement
Builders and contractors often need rock or gravel installed for commercial projects and residential foundations. The old method of delivering aggregate materials used to be by dump trucks which would require shoveling by many workers, often taking several hours to complete. Now, rock slingers or gravel shooters are preferred methods because they're so precise, fast, and efficient.
Our rock slingers can convey aggregate material up to 75 feet away in as little as 15 minutes. And because our conveyor trucks are maneuverable, your targeted areas are easily reached. The chances of aggregate being lost in the transferring process are very minimal with our conveyor trucks.
Professional Rock and Gravel Placement
Get your project done faster all while saving money! If you need rock and gravel placement services for your commercial project, Dan Jones is here to help. From apartment complexes to highway embankments, your applications are nearly limitless. Contact us for your free estimate. We serve the Portland OR and Vancouver WA area.

CONVEYORED AGGREGATE
DELIVERY
COMMERCIAL CONVEYOR TRUCK SERVICES
We're here, ready to answer.
Leave your information below and our team will get back to you!
At JonEZ Conveyors we take extreme pride in what we do!
For more information on our products and services, please fill out the form to get in touch with a representative from our team.