Serving Vancouver WA | Portland OR | Salem-Keizer OR
Installing and placing soil and sand is quick and easy with Dan Jones. In addition to providing aggregate materials like soil and sand, we also transport and place them for you eliminating time, stress, and labor.
Our conveyor trucks can load up to 20 tons of materials at a time and place those materials in hard-to-reach locations, without disturbing nearby areas. Retaining walls, fences, and shrubs are no longer obstacles.
If you're in need of soil & sand placement services, give Dan Jones a call. We provide free estimates and friendly, affordable service.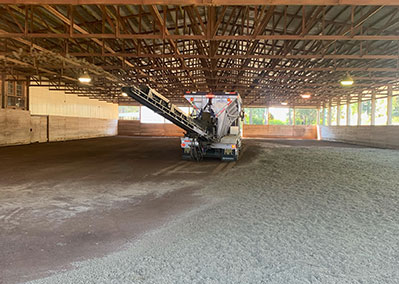 Soil & Sand Placement Projects
We can place soil and sand for:
Pipe and cable bedding
Filling crash barriers
Filling parking lot planters
Filling tanks
Vapor-barriers
Foundation drains
Garages and basements
Lawns & landscaping bedding
Sandboxes
Sand volleyball courts
Restoring shorelines
Drain filters
Ponds and reservoirs
And more!
Whether you need soil as a construction base or for landscaping, one thing is for sure, you'll need large amounts of soil spread evenly. We will deliver and accurately place your soil anywhere, even in large expansive areas. Our conveyor trucks can place material up to 75 feet away from our truck for quick and easy applications.
Our fleet of conveyor trucks can also convey fine sand, so they can be used on building sites, on playgrounds, or for filling tanks, and more. They can even be used for beach restoration. Put away the wheelbarrow and shovel and contact us for your sand placement needs. With us, there will be no unbagging of products or cleanup.
Experts in Soil & Sand Placement
Our high-performance conveyor trucks work quickly and efficiently, saving you both time and money. If you need soil or sand placed, we have the resources and equipment you need to accelerate your project. Give us a call today to receive your free estimate. We proudly serve the Portland OR and Vancouver WA area.

CONVEYORED AGGREGATE
DELIVERY
COMMERCIAL CONVEYOR TRUCK SERVICES
We're here, ready to answer.
Leave your information below and our team will get back to you!
At JonEZ Conveyors we take extreme pride in what we do!
For more information on our products and services, please fill out the form to get in touch with a representative from our team.