Trying to add curb appeal to your property with new landscaping or a new driveway? Dan Jones specializes in residential conveyor truck services! Just let us know which construction aggregate you want, how much you're needing, and we'll do all of the work– delivering it and spreading it. All you have to do is enjoy the end result!
We proudly serve the Vancouver WA and Portland OR metro area. Whether you're adding mulch to a garden or bark to a playground, no job is too big or small for our team. To schedule your free estimate, contact us or fill out or convenient online form!
We don't have minimum order requirements and although we prefer to be notified at least 3 days in advance, we can often provide same-day delivery.
Residential Conveyor Truck Services
At Dan Jones, we provide a wide range of residential conveyor truck services, including:
Place gravel in a driveway
Spread soil or mixed soils in front yard area or over fences in backyard
Decorative or drain rock in river beds or along a curbside
Spread bark dust over a raised bed area
Spread river sand inside a horse area or barn
Spread a thin coat of sandy loam over yard to prep for sod or grass seed.
Place rock, sand, soil etc. beside your house for future use.
The possibilities are endless!
If you don't see your project on our list, that doesn't mean we don't do it. Just contact us. We're upfront about our services and we provide free estimates!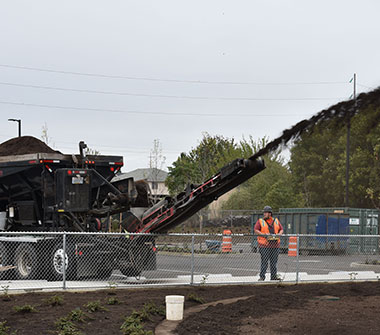 Reliable Residential Conveyor Truck Services
Curious about what makes Dan Jones Conveyor Trucks so ideal? The belt system on our conveyor trucks can be raised to a height of thirteen feet and has a rotation of more than 180 degrees. Our trucks can also shoot materials up to an incredible 125 feet!
The mobility of the conveyor belt also allows our operator to place materials in hard to reach places with precision and accuracy. Walls, fences, and foundations are no longer an obstruction. Utility trenches and sidewalk grades can be filled accurately and quickly. We can place materials from the closest access or through a hole as small as a foundation vent! And since the material can be placed directly from the conveyor onto your desired location, clean up is very minimal.
Don't put off your project any longer, instead contact Dan Jones today for your dirt, rock, mulch, and stone delivery service. We provide exceptional customer service and affordable rates.
For more information on our products and services, please fill out the form to get in touch with a representative from our team.